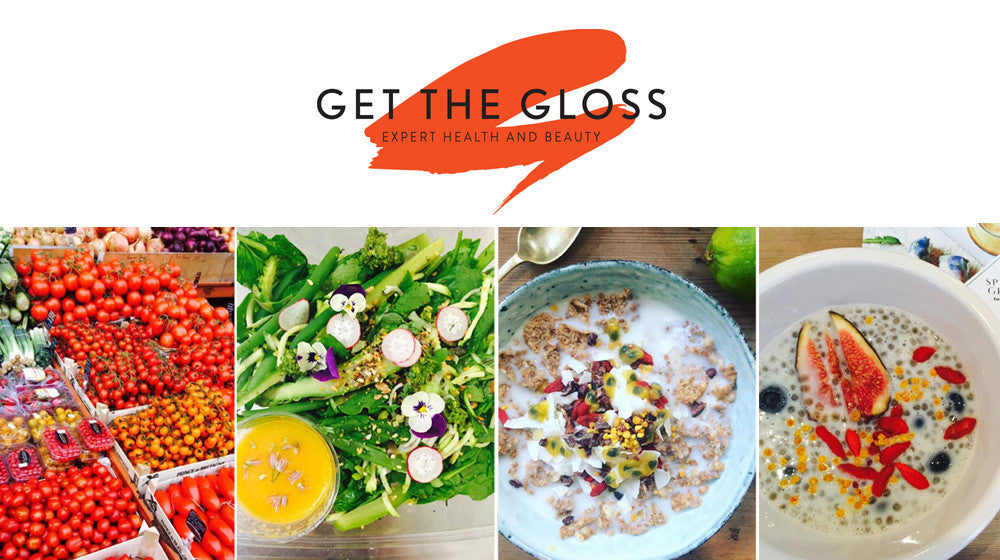 MY WEEK IN FOOD: BONNIE STOWELL
Read the full article at Get The Gloss
Published 8th February 2017
After training under a Michelin star chef, entrepreneur Bonnie Stowell launched Spring Green London, a fresh and healthy food delivery programme, the idea of which came about after she devised her father a plant-based food plan when he was diagnosed with type-2 diabetes.
Sharing her own seven-day food diary, Bonnie reveals her approach to her diet. "My philosophy is to eat as many plant based and nutrient rich, natural ingredients as possible and to add in extra protein when you fancy it. Food should be something that you look forward to something you enjoy, so even when you are eating more healthily it doesn't mean you have to miss out on flavour or excitement! I love trying new interesting foods, adding them into everyday whole food ingredients. I always drink lots of water which is wonderful for your skin and when infused with my signature hibiscus and berry water in the morning it really is the best way to start the day.
"I also believe that a little bit of something you love is good for you. I try to live by an 80/20 rule when it comes to food. My daily food delivery programme is the best way to kick start you on a new healthy eating plan."
2 / 8
MONDAY
Breakfast: Today I had an 'Ultimate Clean' sachet from Clean & Lean, as all my clients are getting these for free in January, so I am having every day at the moment too. Then a poached egg with spinach and chilli flakes. Eggs on a Monday give me that healthy protein kick I need to start the week well
Lunch: Today was a simple raw green salad that I had also made for my clients with a carrot dressing.
Afternoon: Coffee with coconut milk to give me the extra boost I need for a Monday afternoon in January.
Dinner: A quick and easy winter warming vegetable stew with turmeric and coconut oil - as I always find I have so much to do on a Monday something quick, easy and full of goodness works well.
I also had a small piece of very dark chocolate, I was brought a mixture of eight different types for Christmas from Paris and they are totally delicious.
Show more
3 / 8
TUESDAY
I like to have some days that are completely plant based and Tuesday was one of those days!
Breakfast: I love chia seeds soaked in almond milk with vanilla and I often have them for breakfast, as it keeps for days. They also give me a real health boost, as they are full of omega 3, fibre, protein, minerals and vitamins - a real superfood. You can top them with anything you fancy (or have spare!) Today I had it with goji berries, blueberries, coconut chips and coconut yoghurt.
Mid morning: Matcha latte with coconut milk which I LOVE, so warming and it gives me a real energy boost, my coffee replacement.
Lunch: I had avocado, spinach and vegan Biona burger which I am completely obsessed with, I heated it up in a pan with a little bit of cold pressed rapeseed oil, so they turn a little bit crisp on the outside.
Dinner: I was in the supermarket and wanted to try these konjac noodles; they have zero calories but are full of fibre, they are fairly tasteless but have a nice consistency. So made a very quick and easy sauce by sautéing some garlic, mushrooms and spinach then added some stock, parsley and ume shiso (salted pickled plum seasoning) which I use as a seasoning in a lot of my recipes now.
Show more
4 / 8
WEDNESDAY
Breakfast: I had eggs again this morning but this time out at the SenSpa in Careys Manor Hotel where I was testing out the Spring Green London EAT BEAUTIFULLY menu, which I am really delighted with. I had pea and feta with chilli, radish and lemon zest on crispy rye toast with coconut butter and a poached egg - it was perfectly done.
Lunch: I stayed and had a lunch meeting there too and tried my Botanical Garden salad with halloumi, pea, kale, spinach, quinoa and red amaranth leaves - it was yummy.
Afternoon snack: I had a pot of my own trail mix, coconut chips, cacao nibs and pistachios!
Dinner: After a day of meetings I was pretty tired so I had some delicious tortellini with fresh tomatoes, olive oil, basil and chives - divine.
Show more
5 / 8
THURSDAY
Breakfast: I had an early morning personal training session at OPUS so had a green juice before I left and then a big bowl of home baked chia and coconut granola and bran topped with passion fruit, cacao nibs and coconut chips to set me up for the day.
Lunch: Prawns with chives and a seaweed salad - this was left over from what I made my clients and an oh so delicious treat for me.
Dinner: I made some extra Spring Green Beet burgers that our clients were having with rye buns, roasted squash and coconut herb mayo - which were a super tasty dinner, we didn't miss the meat at all.
6 / 8
FRIDAY
Breakfast: I had my favourite cacao chia, I just add cacao powder to the chia and mix well, then I topped it with sprouted cinnamon and vanilla buckwheat, blueberries and coconut yoghurt. Yum!
Lunch: I had a light salad of cos lettuce, bee pollen and pecorino cheese, something I had in a restaurant in Greece the previous summer.
Dinner: We had home made cauliflower pizza with freshly made spinach and basil pesto, and it was just the perfect end to a hard working week. Followed by some more of that yummy dark chocolate...
7 / 8
SATURDAY, AFTER A LIE IN…
Breakfast: Homemade buckwheat pancakes with coconut yoghurt and blueberries.
Lunch: Then a trip to my favourite grocers of all time Clifton Green in Maida Vale, everything is so perfectly presented and there isn't anything you can't get! Then I went home to prepare a delicious dinner for friends.
Dinner: We drank lychee martinis and ate a scallop and tomato stew with butter beans and brown rice, with a botanical salad, followed by a brand new creation of mine that I tested out making that afternoon - my Night Sky Raw Cacao and Banana Ice Cream Crunch. It was totally delicious and refined sugar- and dairy-free!
8 / 8
SUNDAY
Breakfast: We had pancakes again, but matcha ones with blueberries and chia berry jam, all homemade.
Lunch: We ate out at Santo, a Mexican restaurant on Portobello Road and one of my favourite places. We ate sea bass ceviche followed by slow cooked chicken, with black beans and guacamole - one of my all time favourite combinations and bursting with flavour.
Dinner: Baked eggs with goat's yoghurt and kale while watching Sherlock! Finished the night off with a cacao hot chocolate whilst reading my new cookbook.