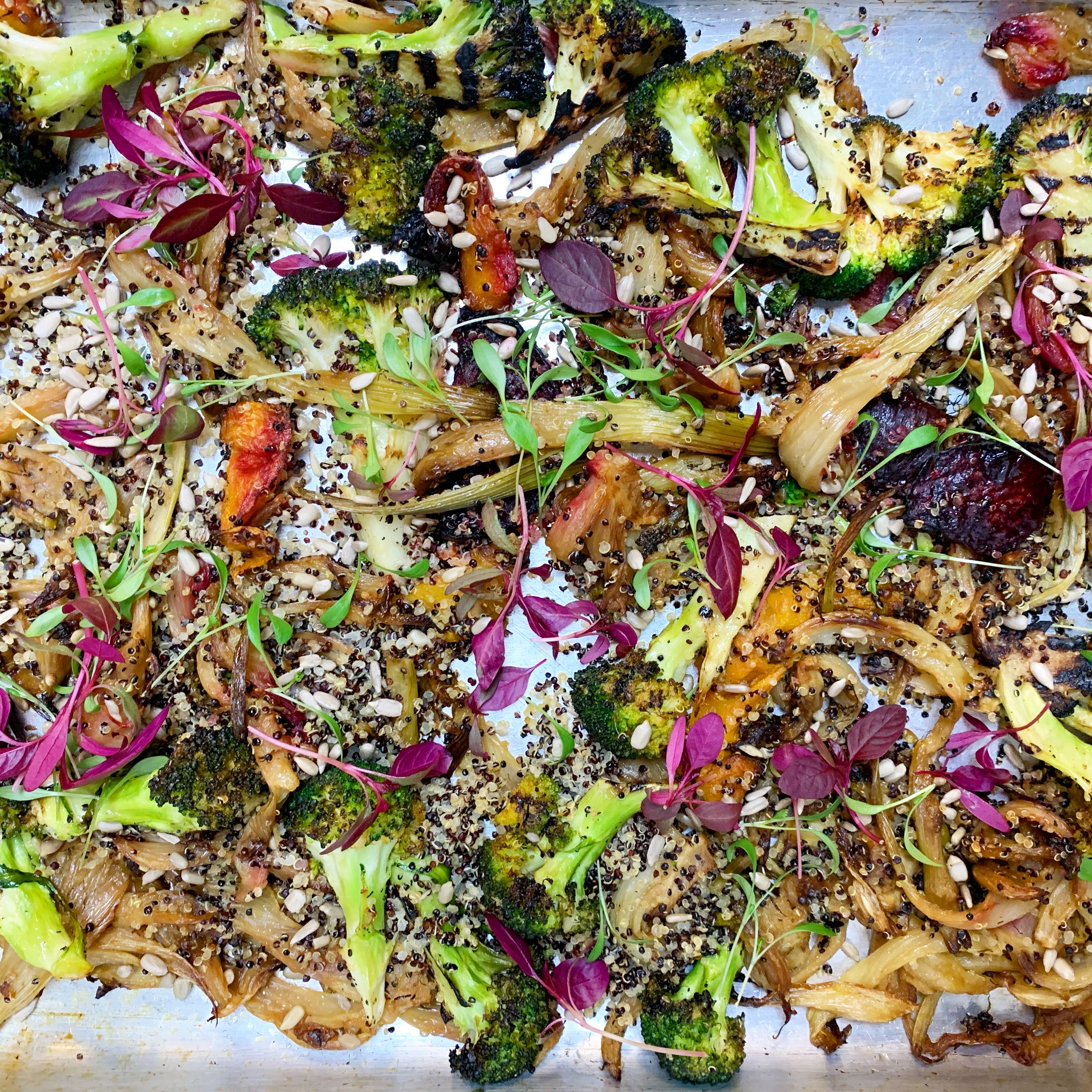 This is super simple + super delicious
Recipe for 2 as a main or 4 as a side dish
Choose some veg you like roasted - we used:
2 fennel bulbs
1/2 butternut squash, cut into thin long strips
1 broccoli 
1 large beetroot 
80g raw quinoa - cooked
Few tsp Sunflower seeds 
Coriander 
50g Tofu per person (depending on which type you may want to add a sprinkle of smoked paprika for flavour)
1. Cook the quinoa in cold water, until al dents, then drain and cool. 
2. Chop the veg put on tray, except the broccoli,  and toss in oil + roast in the oven at 180 degrees for 30 mins or until golden brown.
3. Then add the quinoa to the tray and give it a mix and then place the chopped broccoli on top. Roast for a further 10 minutes.
4. If adding tofu chop and add to a separate baking tray + roast for 10 mins with a sprinkle of olive oil.
5. When everything is out of the over add fresh coriander + sunflower seeds.
If you would like our all time fave dressing see below or just add oil lemon + a pinch of flakes salt 
Dreamy Cashew Ginger Dressing ( be warned it's addictive!):
100g Cashews 
80ml Soya sauce 
80ml Lime Juice
50ml Water
50g Ginger 
80ml Lime juice 
1 Garlic
100ml Rapeseed Oil
Blitz all the ingredients up until smooth. Will make approx. 450ml + will last for quite a few days, so put in a jar and keep in the fridge. 
Happy cooking